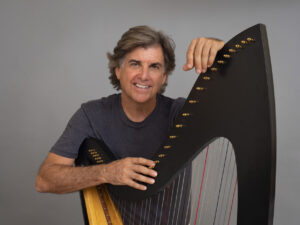 Peter Sterling is one of the world's premier harpists in the genre of new age and contemporary instrumental music. During his 28-year music career with the harp, he's had several #1 records on the international radio charts.
Born in Santa Monica, Peter began playing the piano at 6 years old, first accompanying his brother who was practicing violin. For a period of four months, he played, solely by ear, for his mother's and his own pleasure. After a family friend heard and watched Peter playing, the friend chastised him, saying he was "doing it wrong." As would almost any child, Peter resented the statement, and stopped playing right after that.
All things come to those who wait. But, Peter's wait lasted more than a few years. When he was 33, he was earning a living as a ski instructor in Aspen, Colorado. It was a good living, but from out of the depths of his memory, his muse called to him. Her siren song was not to be ignored, and Peter moved to Sedona, Arizona, drawn to its energy vortices, its natural beauty, and its powerful connection to a higher purpose in life.
It was in Sedona that Peter discovered his affinity for, or more accurately, his mystical connection with the Celtic harp. It was 1993 and he took to the instrument without any formal training or lessons, like the proverbial fish to water. His playing talent sprung forth in an almost organic manner, surprising Peter most of all.
His career as a recording artist began in 1994 with his first album, "Harp Magic," released on the World Disc label. Success came almost immediately as the recording was nominated for the Best Instrumental Album award by NAIRD (now A2IM), an organization for independent musicians.
Peter's album Sanctuary of Light won the Hollywood Music in Media Award for best New Age ambient song album of 2021. His 2022 release The Winding Way won the COVR Gold Visionary Award  for best New Age record of the year 2022. He was a bronze and silver medal winner in the prestigious Global Music Awards, and he won the New Age/Ambient Song of the Year in the 2017 Hollywood Music and Media Awards.
Peter's new album is MYSTIC VOYAGER.
The album, years in the making, is a captivating musical journey that transcends boundaries and takes listeners on an enchanting musical voyage through realms of mystical wonder. This album – his 16th – showcases Peter's exceptional talent as a harpist and composer, as he weaves a tapestry of melodic beauty and ethereal ambiance throughout. Joining Peter on the album is a host of world-class musical talent. You can find out more about this by reading our album review.
In addition to being a world class harpist, Peter is also a visual artist working in stained glass and digital photographic paintings he calls "Portals of Light" which are a unique alchemy of photography, digital effects, crystal and gemstone powders which create multi-dimensional, holographic mandalas.
His beautiful art work decorates the interior of his Sedona house (including a gallery of his "Portals of Light" crystal alchemy paintings) which he shares with his son, Micah.  In the little spare time he has, he also conducts Jeep tours of Sedona's canyons for private clients and he is also heavily involved with the growing CBD hemp industry.
Even with such a full plate as he has, Peter found time to write a book, "Hearing the Angels Sing," and he also conducts workshops on the science of sound healing and sacred geometry.
Official artist website: https://www.harpmagic.com