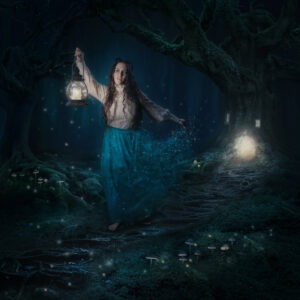 "Keep The Light On" by Marya Stark
Single Review by New Age Notes Radio and New Age CD Staff
Marya Stark is a rather magical-seeming being, whom we might accurately refer to as having "goddess energy." In more plain English, she is an extremely talented American singer-songwriter, lyricist, and vocalist who has gained recognition for her unique and captivating blend of New Age, folk, pop, and electronic music.
Her new release, "Keep The Light On," is the first single from her upcoming album, "Weightless." This beautiful vocal composition was co-produced by Marya and award-winning producer Andy Zenzcak and features Grammy®Award winner Barry Phillips on cello and string arrangements.
The song showcases Marya's impressive range as an artist. Here, we have her signature lyricism, along with finger-picking style acoustic guitar, soft nature sounds, the kora, which combines features of both the lute and harp, layered cello, and the Ondomo, which is a unique electronic keyboard instrument known for its ethereal richness of sound.
"Keep The Light On" is a gently flowing love story emanating directly from the heart about the power of song to bring home the one you love.
"I'll keep the light on
so you know that I was home
if you hear my voice upon the wind
know I'm singing you a song. . ."
Marya wrote this gorgeous, emotionally evocative song in the middle of the night in her spiritual retreat cabin located in the mountains of Santa Cruz, California. She says, "This song speaks to the sweet familiarity of a place called home, and a person to come home to. It is an anthemic song, about keeping the lantern of the heart turned on in times of darkness." How very beautiful.
The vocal performance is dreamy and ethereal, lush – with some outstanding vocal harmonies toward the end – and at the same time powerfully moving, memorable, and completely authentic. Marya's voice has one of those soothing qualities we don't soon forget. And, although this is not something we would term "traditional New Age," the track showcases Marya's unique artistic vision and impressive musicianship.
Don't be surprised if you hear this song in the future in a movie or television series. It is a timeless, uplifting song of hope and love. Such would be a perfect placement for this touching track.
In the light of that kind of media, an upcoming music video is being filmed on location in a redwood tree forest. Redwoods are some of the oldest and largest living organisms in the world. And love is an eternal theme, so here we have the perfect combination for magic to happen. The video, which will coincide with the single release, features a dance troupe, choreography, and special effects.
Overall, Marya's ability to seamlessly blend different genres and create music that is both relatable and deeply meaningful makes her a favorite in the Indie music world, and fans of all kinds of music will undoubtedly find something to truly love in this song. Welcome home.
Get it here: https://beautifulwayrecords.fanlink.to/MaryaStarkKeepTheLightOn
Official artist websites: www.marya-stark.com and https://beacons.ai/maryastark
Credits:
Marya Stark – composer, guitar, vocals, sound design, production, arrangements, percussion
Andy Zenczak – production, engineering, mixing, percussion
Barry Phillips – cello, arrangements
Daniel Berkman – kora, Ondomo
Cian Riordan – mastering
Tessa Shields – photography