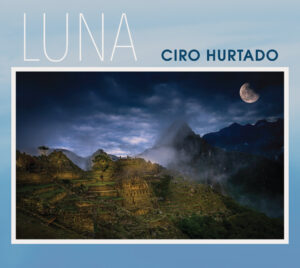 "Luna" by Ciro Hurtado |Album Review by Dyan Garris, New Age CD, New Age Notes Radio, Zone Music Reporter (ZMR), and "Spirit Seeker Magazine"
Gentle, yet passionate, hopeful, joyful, and optimistic, yet not overblown or ostentatious in any way. Just gorgeous, like soft moonlight. "Luna" will brighten your day. – Dyan Garris
Many times, I wonder how some things get into the New Age music genre. The album, "Luna," by Peruvian-born guitarist, Ciro Hurtado, is here because this is what might be called a "crossover," or "Latin global fusion." The, oh, so relaxing music found here reflects the deep spirituality and beauty of Ciro's original homeland. "Luna" (translating to "moon"), is 9 tracks of lovely and rejuvenating music and is truly a breath of fresh air and soft moonlight for the weary spirit.
So that's why it's here. Makes sense to me.
Now, let's delve. Ciro migrated to the United States when he was in his 20s, eventually becoming a citizen.  He's an acclaimed guitarist, composer, arranger, and producer of Latin-based, world, global fusion music. Currently California based, he's released 11 albums in this genre. In 2015, his album, "Ayahuasca Dreams" was nominated for a Latin Grammy® Award. And in 2019, one of his albums, "Altiplano," won the "Best World Album" award from Zone Music Reporter (ZMR). So, here we have quite an accomplished musician, who performs on acoustic guitar, electric guitar, and small Andean guitars, i.e., the charango and ronroco.
On "Luna" he brings together an array of other accomplished musicians and vocalists. This is a beautiful, relaxing, romantic, and enjoyable album, which opens with a solo piece performed on the ronoroco, a 10-stringed instrument with a deep tone. This is "Camino." In Spanish, "camino" means "road" or "path." So, it's a fitting start and perfect entrée into the rest of what follows.
Following is the title track, which is melodic and calming with its guitar base, and features a traditional Andean ensemble. The Andean flutes, played here by Ciro's wife, Cindy Harding, make this extra special. This is a true favorite on the album.
The percussion on the quite soothing "Rimac" is performed by master Peruvian percussionist, Gino Gamboa. Of particular interest is the use of the quijada. This is the jawbone of a donkey. To play it, "the jawbone is struck, causing the teeth to rattle, thus creating a unique percussive sound." Indeed, this is unique and interesting. Cindy Harding adds her floating ethereal vocals, making this another favorite.
The vocal piece, "Amor en Pandemia," which I believe is basically, "Love in a Pandemic," expresses the sadness of so many lovers who were not able to be together during the pandemic of 2020.
"Strange times in the city
Lights don't illuminate my darkness
Your black eyes alight no more
My lost love. . ."
This poignant, gently emotional piece is sung beautifully in Spanish by Milena Salamanca, with Ciro on guitar, Julio Ledezma performing on bombo and redoblante, plus Cindy Harding on chajchas. This really tugs at the heartstrings. Does lost love return? Perhaps.
"Andean Celtic" is a fun and uplifting take on Celtic music in an Andean style. Flutes, guitar, and percussion make this super easy to listen to and you'll find it soothing to the soul.
The exceptional track, "Amanecer" (meaning "sunrise" or "dawn"), features Ciro Hurtado performing on guitar and Cindy Harding on quena. Along with this is the Venezuelan Strings Recording Ensemble, which is an entire orchestra. The song beautifully expresses in every way, the optimism of the new "dawn" as we emerge from the strange cocoon of the global pandemic and find ourselves again.
"Luna Llena" (full moon), is a flowing, tender vocal, sung in Spanish, that speaks to the cycles of the moon, both dark and light. The piece features Milena Salamanca's beautiful voice once again. Ciro's guitar almost weeps here – he is one with that instrument – and along with the other instrumentation, this is quite beautiful and is one to listen to over and over.
Yet another beautiful track, is "Taruka." "Taruka" means "deer" in Quechua, which is the modern-day language of descendants of the Incas.  The deer is a kind of personal totem to Ciro, who often encounters them on his morning walks. This song is light, airy, and fluent. Ciro is wonderful on electric guitar, and again, here we have the Venezuelan Strings Recording Ensemble, directed and produced by Raniero Palm. All gorgeous, polished, and refined.
The album closes out with the upbeat "Del Norte Soy" (translating essentially to "I am from the north").  Here we have a cheerful vocal sung in Spanish by Libby and Cindy Harding. The song is inspired by the Son Jarocho genre, and is a "nod" to Mexico, specifically to the Veracruz area.  Traditional Mexican instrumentation is incorporated here, such as the requinto jarocho, the jarana jarocha, and the keyboard harp.
"Luna" is light at the end of the dark and unfamiliar tunnel we find ourselves now emerging from. Stellar production and performances all through, this is a hopeful and optimistic "must have." It will brighten your day and night.
Releasing August 12. 2021. Get "Luna" here: http://www.cirohurtado.com/
Radio Promotion:
LAZZ PROMOTIONS
Ed & Stacey Bonk
[email protected]