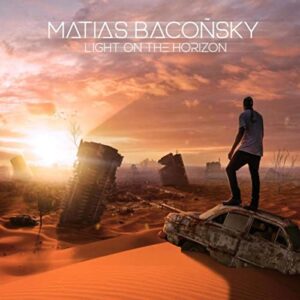 LIGHT ON THE HORIZON by Matias Bacoñsky
Single Review | New Age Notes Radio
In June 2020, I had the pleasure of reviewing an exhilarating single, "The Immortal," from Matias Bacoñsky's new album, "Epochal." So, I was excited to be asked to review the third and final single, "Light on the Horizon," from this exciting album.
The album, "Epochal," is a continuation of the story of Bacoñsky's previous album (2018), "When the Worlds Ends," a themed album which tells the story and journey of a man who survived the end of the world.
I love this story and its continuation because it's deep. It's epic. It's impressive. It's memorable. It's passionate. It's emotionally moving. It's amazing.
And I was happy to discover as well that this single, "The Immortal," from the album, "Epochal," was nominated for the 2020 Hollywood Music in Media Awards, Hollywood, CA, Best Contemporary Classical/Instrumental Song, as well as winning the 2020 The 4th Annual Peace Song Awards. Well deserved. As well, in my opinion, I haven't heard anything else more perfectly suited to big, bold, epic, Hollywood films than this music.
Although "Light on the Horizon" is a wholly instrumental piece, to give you more of the flavor of what this music is about, here is the concept for this song: "At that moment, my tears of sadness turned into tears of joy. The light that I had seen weeks ago appeared again, and this time I am sure it is not the product of my imagination. I felt happy, but my mind filled with doubts at the same time. That light can be anything, is it really worth reaching for?"
Makes you think twice, doesn't it?
Part of what makes this piece so greatly appealing – apart from Bacoñsky's obvious musical and composition talent – is the stellar production, orchestration, and arranging (of not just this song, but of the whole "Epochal" album), that was done by the Argentine based, award-winning, Ignacio Ramirez (https://www.ramireznacho.com/). The production and orchestral arrangements are beyond stunning.
Ramirez, not surprisingly, holds a Master's Degree in Scoring for Film, TV, and Video Games from Berklee Valencia (Spain). He's also member and co-founder of UpCraft Studios, an audio company he created with David Stillman. And Ramirez's gift of orchestral and choir arrangements seriously shines through here. Together, he and Bacoñsky are amazing.
"Light on the Horizon" is available on all digital platforms. Sheet music is available at the artist's official website: https://www.matiasbaconsky.com
View the very cool video for this song here:  https://youtu.be/1tIuBhypm1U
 "LIGHT ON THE HORIZON" SONG CREDITS:
Composed by Matias Bacoñsky
Orchestral arrangement by Ignacio Ramirez
Mix/Mastered by David Stillman
Art by Nano Acosta
#EpicMusic #MatiasBacoñsky #TheImmortal #Epochal #IgnacioRamirez #HollywoodMusic