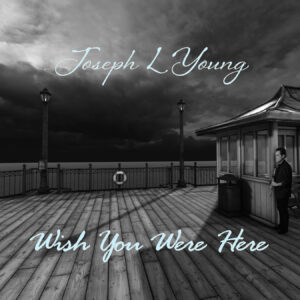 "Wish You Were Here" by Joseph L Young
Single Review by New Age CD and New Age Notes Radio Staff
Joseph L Young is an accomplished multi-instrumentalist known for his captivating and atmospheric compositions that lead listeners into an immersive journey of self-discovery. With his unique blend of genre-defying ambient, New Age, Native and jazz fusion, contemporary instrumental, and world music influences, Joseph is a versatile artist who creates multi-layered sonic experiences that help people work through their emotions, releasing negative energy and serving as a catalyst to help with transformation and growth.
Through carefully crafted layers of instrumentation, including keyboards, synths, flutes, saxophones, and various world instruments, Joseph creates rich musical landscapes that immediately capture the imagination. Joseph's music also showcases his exceptional talent for creating mesmerizing melodies.
Whether through delicate piano notes or haunting flute and saxophone solos, his melodies have a way of resonating deeply with the listener. There is a sense of emotional depth and introspection in his tranquil and serene compositions, inviting meditative contemplation along with relaxation.
His new single, "Wish You Were Here," is dedicated to all those who have left this lifetime far too soon. We still miss and love them and, indeed, wish they were still here. This beautiful composition has a sinewy, winding melody that straight away relaxes the mind, body, and spirit. Layered in are some soothing, ethereal vocals, adding additional texture to the overall sound.
Whether enjoyed as a backdrop for relaxation, meditation, or simply as a means of escape, this piece offers a truly captivating musical experience that is both soothing and uplifting. Here we have a transcendent quality that draws us into the mysteries of life and death, while also bringing us back to our center. The flute and sax performances are outstanding as is all the rest.
For the full experience, be sure to watch the video, which will go live on June 28, 2023. Here:   youtube.com/watch?v=vZuNEJBcu7U  With this video, Joseph has created a wonderful multi-dimensional environment for his musical performance. In this video, he created a virtual set in which he also appears in playing flute and sax. Perfection.
Get the single, releasing June 29, 2023: https://josephlyoung.bandcamp.com/track/wish-you-were-here
Official artist website: https://josephlyoung.com/