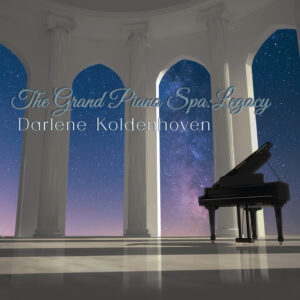 "The Grand Piano Spa: Legacy" by Darlene Koldenhoven
Album Review for New Age CD, New Age Notes Radio, Zone Music Reporter (ZMR), "Spirit Seeker Magazine," and "Retailing Insight Magazine"
"'The Grand Piano Spa: Legacy' is utterly uplifting and radiant. This is a true treasure in the deep sea of New Age solo piano." – New Age Notes Radio
It's not an easy thing, I believe, to continue to top oneself as a musical artist. Earlier this year, Grammy® winner, Darlene Koldenhoven, released her first solo piano album, "The Grand Piano Spa." That album made its way to #4 on the Billboard charts in its first week of release and had many other successes. So, I wondered. . .what comes next? "The Grand Piano Spa: Legacy" is what it is. And it is completely fabulous in every way.
The album is 10 tracks, 46 minutes of grand solo piano that is uplifting, optimistic, and relaxing all at the same time. This is a true treasure in the deep sea of New Age solo piano.
This lovely and flawless album opens with "Radiance," which is a glowing start. Right away, you just fall in love with this song. It's got everything: Pretty, melodic, happy, and hopeful, relaxing. The piano is perfectly played with just the right amount of sensitivity, grace, and elegance.
This is quite amazing, because 20 years ago Darlene broke a bone and popped a tendon in her right-hand finger. She had 100 stitches in it and 4 pins, as well as not having full use of her right hand for 5 years. Her hand remains compromised, and yet here she is playing the piano again and playing it superbly. That is true grit and determination.
The piece, "Lucidity," aptly follows. Again, melodic, elegant, and simply classy. This is another one to love. It's calming, clear, and scintillating.
Darlene's skills as a composer shine through in "Migration." I am thinking that perhaps this is about migrating birds. Light, flowing, and skillfully played, that's the picture it paints in my mind's eye. Very nice!
Speaking with a good friend or lover is always sweet. "Sweet Conversations" is tender, uplifting, and beautifully performed. Darlene has a very precise and velvety touch on her keys. For piano players, this one would be fun to play too. So, note that there is downloadable sheet music available for both this album and "The Grand Piano Spa" as well.
Really, I was thinking at this point, can this album even get any better? Well, yes. The elegance and grace effortlessly continue with "Love Eternal." This is perfect. Perfectly played, perfect melody, just all perfect. This is one for the playlist, for certain.
Things slow a bit with "Glaciers." It's not icy, because everything about Darlene and this music is warm and inviting. But this is contemplative and relaxing, and perhaps meditative.
"Moonlight Minuet" is nicely paced and composed in a simple classical style. This is flowing and enjoyable, and again relaxing. Yes, we are in a spa, no doubt about it. How lovely.
The very beautiful "Black Swan" is another "must have," although, truly, you should get the whole album for the full relaxation/spa experience. It's grand. And by the way, for those that do not know, Darlene is best known for her amazing and exquisite voice, but she can certainly add composition to her awesome gifts. This piece is wonderful and one you will want to return to again and again.
"Cumulus" is artistically interesting with a pretty melody and graceful chord progressions. One thing that really stands out in this album (and her previous solo piano album, "The Grand Piano Spa"), is how elegant every song is both in composition and performance. This piece is superbly elegant all through and ends – although we don't want it to ever end – with a grand flourish.
The album closes out with the gorgeous, "Ancient Forest," which is yet another favorite. Calm, gentle, and melodic, we feel as if we are floating away surrounded by gentle waves of peace. Yes, Darlene has topped herself here. No question about it. Amazing.
"The Grand Piano Spa: Legacy" releases October 22, 2021, with pre-orders beginning August 22.
Get it/listen here on 8/22: https://www.darlenekoldenhoven.com/tgpsl
Buy the CD for only $5 now until Oct 28th: https://www.DarleneKoldenhoven.bandcamp.com
Official Website: https://www.darlenekoldenhoven.com/
Facebook:https://www.facebook.com/DarleneKolden/
Twitter:https://twitter.com/darlenekolden
YouTube:https://www.youtube.com/user/DarleneKoldenhoven
Bandcamp: https://darlenekoldenhoven.bandcamp.com/releases
Linkedin: https://www.linkedin.com/in/darlenekoldenhoven/
YouTube: https://YouTube.com/darlenekoldenhoven
For More Information Contact:
William Cloyd
Sr. V.P. Promotions / Bookings Studio City, CA
Phone: 818-980-2840 (office)
Phone: 818-378-1097(cell)
E-mail: [email protected]